January 31, 2020: Neo is a 6 month old baby saved by Sweet Home Doberman Rescue. He was pulled from an Alabama shelter where he arrived as a stray. DMDRA is pleased to help cover the cost of Neo's prescrotal urethrostomy.



January 21, 2020: Second grant awarded this year goes to Molly from Doberman Rescue League in Fl. After eating a leather leash and not receiving immediate treatment, she was returned to rescue due to high cost of the surgery that was now necessary. Molly had her surgery and recovered with true Doberman strength.

January 21, 2020: Our first grant of the new year has been awarded to Ginger from Dog Mountain Rescue in Ca. This little beauty wasn't feeling very well until she underwent major dental surgery and multiple extractions.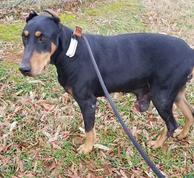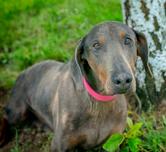 August 08, 2019: Rambo was rescued by Dog Mountain Rescue in California. In addition to some TLC and good food, this sweet senior needed surgery to remove growths and skin tags to have them biopsied. He is doing well now and looking for a new forever family.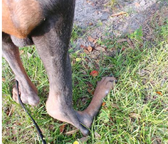 November 11, 2019: Two year old Rio was rescued by Ruff Tales Rescue. This young girl needed help with her FHO surgery. DMDRA was very happy we could assist with that expense.



November 05, 2019: Three Parvo pups from High Desert Doberman rescue are now on the road to recovery and DMDRA is once again happy to help their rescue cover some of the cost of recent emergencies...



November 05, 2019: Cady is a little beauty rescued by High Desert Doberman Rescue in New Mexico. FHO surgery was performed and DMDRA is happy to assist with the cost of her medical needs. During her recovery she fell victim to bloat, which she also survived. What a tough little cookie she is.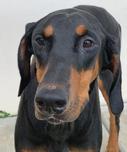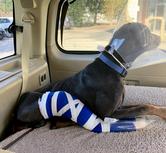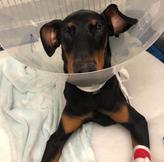 February 19, 2020: Pretty Blanche has received the latest DMDRA grant. Thanks to Sweet Home Doberman Rescue, Blanche was pulled from a rural shelter where she was surrendered by her owners due to lack of financial ability to treat her stomach tumor.



February 1, 2020: Dobies and Little Paws in Fillmore CA. rescued Luke from an animal shelter. He had a severely broken leg that required amputation for his long-term health and well being. He is now healing and doing well.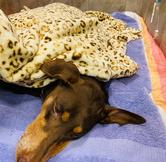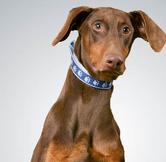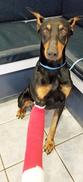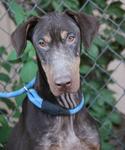 July 29, 2019: Smooter is a handsome boy currently with United Doberman Rescue and Canine Castaways of Minnesota. He ate a corn cob before coming into rescue, which became obstructed. He went into shock and his survival was in question. Surgery was successful and he is on the way to a happy healthy life.

July 29, 2019: Darlene is a beautiful four year old surrendered by her owner. This poor girl has been walking around (or trying her best to walk) with both knees blown out. She has now completed double TPLO surgery due to bilateral Cruciate Ligament tear. She is doing well and is her way to a much more pain free life.

August 24, 2019: Sissy was born May 7th and purchased from a "breeder" at 6 weeks old. She is very tiny (8lbs) but she has a big personality. Sissy was surrendered to Bluegrass Doberman Rescue because her health is in jeopardy. Kidney failure appears to be the cause. Her prognosis is poor, but the sweet folks at Bluegrass are doing everything they can to make sure she lives as well as she can for as long as she can. We are contributing to her medical costs and our hearts and prayers are with this baby girl and her caregivers.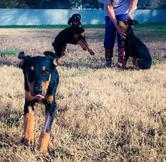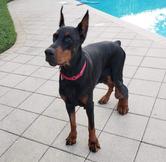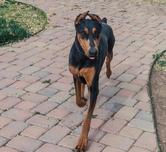 October 7, 2019: Precious Blueberry was in need of assistance. Thanks to Dog Mountain Rescue in Ca. she has received much needed care and love. She is an older spayed blue doberman, now getting the attention she deserves. DMDRA has issued a grant to help with her expenses. Such a gentle face...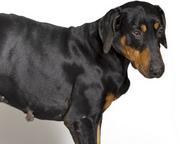 August 05, 2019: This is Shadow, currently with Dog Mountain Rescue in California. This sweet 6 year old was surrendered to rescue and sadly required surgery for an intestinal blockage; a true Dobergoat... We were pleased to assist with his medical needs and are so happy he is doing well now.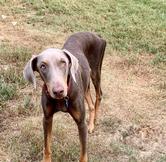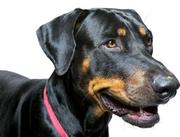 August 16, 2019: Penelope is a three year old in the care of Doberman Rescue League in Florida. This lovely lady was abandoned atop a parking garage with her male counterpart. Penelope was extremely ill with mastitis and pyometra. She underwent surgery and is doing really well now.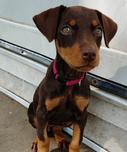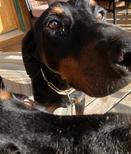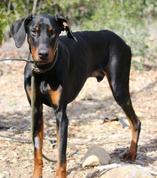 September 17, 2019: Hello Sweetums! Pulled from a shelter in CA by Dobies and Little Paws. In addition to her mange, she had a life threatening case of pneumonia. She had to be hospitalized for over a week, and though it was touch-and-go for many of those days, she managed to pull thru. Her name fits that face perfectly and we are so pleased we were able to help her be the best she can be.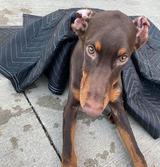 August 14, 2019: In April Farrah was hurt by another dog that was not nearly as sweet and friendly as she had hoped. Farrah was badly injured and lost the use of one of her legs. After many doctor visits and physical therapy there was still no improvement and due to nerve damage the time had come to remove the leg. The Amputation was successful and she is up and running and feeling so much better.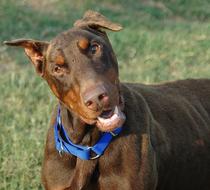 December 21, 2019: Indy, a 14 month old blue male, was for sale on rescueme.org for $100. The owner stated he was hit by car and had a broken leg, but she couldn't afford medical care. Dobie Ranch Rescue tried to get Indy but the owner would not respond, but three weeks later they found Indy in a shelter, still with his untreated broken leg. Absolutely heartbreaking and frankly disgusting. Doctors were flabbergasted as to how much pain this animal endured. But the good news is surgery has been completed and he is now pain free. DMDRA is honored to assist with his medical bills..








December 16, 2019: Maximus was found as a stray by Animal control who turned him over to Dobie Ranch Rescue in Florida after bringing him to a Veterinarian. His back leg was 3 times normal size. So many tests, exams and surgery had to be completed to get this gorgeous boy on the road to health and happiness.



December 12, 2019: Noel. This precious baby was found outside a Walmart after being hit by a car, still healing from her freshly mutilated ears. Weep no more for this little girl, as the new life provided by Doberman Rescue League of Florida has already begun and she is well on her way to a bright promising future.







December 02, 2019: Hello Barney... what a good boy he is. After being chased by animal control into traffic, Barney emerged with a badly broken leg. Doberman Rescue of Nevada took him in and he is currently on the mend and looking forward to his new life.